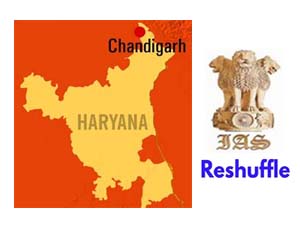 Chandigarh (24.11.2021): The Haryana Government has reshuffled one IAS and three IPS officers with immediate effect. They are:

Mandip Singh Brar (IAS: 2005: HY) has been posted as the Managing Director, HARTRON, and Mission Director, Mukhyamantri Antyodaya Parivaar Utthaan Yojana.
Dheeraj Kumar, Kurukshetra SP, has been posted as Commandant, 3rd IRB, Sunaria, Rohtak.
Anshu Singla (IPS: 2014: HY) has been posted as Kurukshetra SP.
Nitish Aggarwal (IPS: 2017: HY) has been posted as DCP, NIT, Faridabad, with the additional charge of DCP, Headquarters, Faridabad.