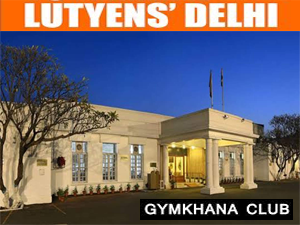 The Delhi Gymkhana Club GC continues to inflame the sense of propriety of its veteran members.

On December 01, 2020, as many as 50 such members collectively wrote a letter to the Club President, Chairman MDSC, and GC members to express their rage over a number of issues that have come to plague the club by the arbitrary decision of the GC.
One of the prominent issues highlighted in the letter is the proposed suspension of a member, Dr. Parvez Hayat (Retd IPS), for a day and debarring him for contesting the election in the club.
The letter says: "We very strongly feel that this whole thing is illegal and unlawful under the Company's Act. Mr. Hayat is an elected Director of the Company and you just cannot do illegal things what the Sub-Committee has done and have not even followed the due procedure of law as laid down. Without commenting on the merits of allegations against Dr Hayat made by Vice Admiral Randhawa, the club needs to follow the correct procedure which in this case has not been done. No show cause has been issued and MDSC already seems to have made up their mind for the punishment without even hearing the member being accused.* What kind of legal process is this? *Further the person who had levied the allegations namely Vice Admiral Randhawa can not be part of GC recommending any actions.* These are basic issues which ought to have been followed by MDSC and GC".
Advising the GC to follow financial prudence, it said there was no sense in giving Diwali Bonus to the employees as the club's finances were in a mess. Employees should be explained the reasons to make them understand the logic of this decision.
The letter is centered around advising the GC to follow rules and regulations and stick to the due process before taking any decision.
It has become all the more important because "the club is currently besieged with a number of challenges. We are in the news for the wrong reasons and the club stands totally ridiculed in the eyes of the public. It is also facing a number of crisis situations like Threat of an Administrator, Suspension of Bar License, Police FIRs, L&DO Notice, Liquor thefts, huge legal expenses, and financial irregularities".
The signatories to the letter are Lt Gen Rajender Singh P 3761, Maj Gen RK Sanan P- 6015, Rear Admiral MK Badhwar (P-6224), Nalin Kohli P-6685, Maj Gen PS Malhotra P5298, Manoj Kumar P 7010, Raj Caprihan P6290, Jaipal Singh Sangwan P--5066, I.J.Singh P 5257, HPS Bedi P 6257, B. M. Ahluwalia P4104, Krishan Verma P2442, Ms. Rumnita Mittal P4229, Ashok Sharma P6287, S K Nagrath P1943, Col Sudhir Manchanda P1213, Anita Dev P4185, Brig BC Rana P4618, Vipin Aggarwal P4918, Lt.Cdr. A.S.Ahluwalia P-4513, Dhirendra Singh(IAS) P4385, Air Marshal Anil Chopra P6546, Air Cmde BB Adlakha P2831, Air Cmde Ranjan Mukerjee P 7085, Air Cmde SL Gupta P3892, Nirmal Suri P6702, Cdr AM Hooda P3526, Anjula Mehta P5333, Ashok Bahl P3871, Ashok Kapur 1720, J.Bhattacharjee P-2941, Girish Sharma P-3135, Mohini Chaudhary P-4178, D.P Tripathi P 4993, SR Wadhwa P 1593, Vijay Ahuja P-7032, Gopal Dikshit P-2165, Dr. Rajiv Singh Mukul P6331, Uday Gupta P 6801, AB Shukl P-6601, Maj Gen MS Chadha P-0948, Cdr Rajinder Sud P-2737, 43.Brig Umang Seth P-4555, Vijay Mohan P-5058, Lt Gen BS Nagal P-6325, Brig YS Rao P-6714, VK Puri P-6231, Maj Gen Chona P-6219, Brig NS Chaudhry P-5457, and Bobby Vaid P-6568.