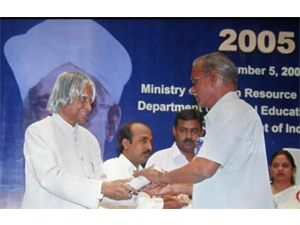 New Delhi (05.09.2021): Even though it's most desirable, it has been rare for district administrators, particularly for IAS and IPS officers, to greet teachers in their domain on Teachers' Day celebrated every year to respect a great teacher of Indian philosophy, Sarvapalli Radhakrishnan, who became the second President of the Indian Republic after another great teacher and passionate patriot, Pandit Rajendra Prasad, who set an extraordinary example for the country by his simple living and high thinking.
While the whole nation today celebrates Teachers' Day, setting a new and healthy precedent for administrators, Superintendent of Police (Palamau), Chandan Kumar Sinha (IPS), wrote a personal letter to all teachers of the district, greeting them, and reminding them that they were the real crafters of today and tomorrow India.
Recalling the fact that his parents were teachers by profession and there were many more teachers in his extended family, Sinha expressed the confidence that the teachers of his district would make extra efforts to not only educate but build up the characters of their pupils.
Indianmandarins also wishes its readers Happy Teachers Day, more because the father of its editor has been a life-long teacher and for his distinguished services, he had received an award from then-President Abdul Kalam.