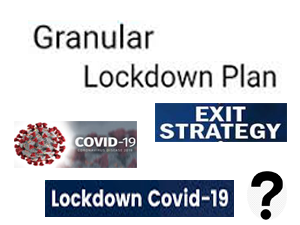 A white paper released by Sapio Umbrella, an entity owned by government advisory firm Sapio Analytics, talks of a new concept titled "Granular Lockdown Plan" that can help in the fight against COVID-19 in India. The concept provides a long-term solution on how to plan lockdown across hyper-local areas pan India such that the impact on economy and society is minimal while the spread of the virus is significantly controlled.
"Granular Lockdown Plan is a scientific data-driven and Artificial Intelligence (AI) supported approach to suggest the extent of lockdown in a hyper-local area, covering lockdown across establishments, services and sectors. The concept is incomplete if seen only with the purpose of stopping the spread of the virus, as the concept is designed to optimize between different types of impact.", reads excerpts from the white paper that provides the reasoning why such a plan is needed by India.
The paper provides analytical results demonstrating how the spread of virus shall be different in different parts of India, including neighboring localities, depending on various factors including and not limited to, spread and types of establishments in the area, demographics of the population, the density of the population, and so on. It then goes on to show how the economic impact is also variable across localities and so is the social impact on various parameters such as crime and essential supplies. It claims that the ideal way to optimize the impact on economy, society, and COVID-19 morbidity is through a hyper-localized plan.

Adding about the paper, Ashwin Srivastava, co-founder of Sapio Analytics and lead author, says, "The concept is being presented after a product that is able to use the concepts given here is already ready and in use by various local and state bodies. Post it's successful impact, as is being seen on a daily basis, we have provided this white paper to the public for review and analysis. We are also in touch with NITI Aayog for a policy level consideration of this concept."

Data analytics-driven model and artificial intelligence supported tools are recommended as being solutions to the effective implementation of this concept. The entire paper can be downloaded as well.
(CLICK To DOWNLOAD)