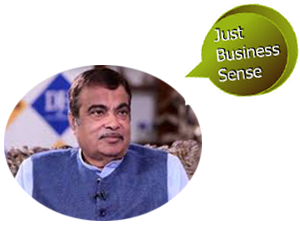 The hawk-eyed Union Road Transport and Highways Minister Nitin Gadkari, known as much for high efficiency as for his great singing ability, was shocked and became speechless while inaugurating the NHAI's new building in Nagpur through video conferencing on October 26.

He expressed his displeasure and disappointment over some officials of the NHAI who managed to escape his hugely successful monitoring system. And he became speechless about the words to use while inaugurating a Rs 250 crore project that has been under construction for 11 long years. After the contracts were awarded in 2009, New Delhi has had three union administrations and the NHAI had 08 chairmen.
He was songless because, under him, the NHAI has been setting new records in laying highways, which has enabled it to target for completion Rs one lakh crore 1,240KM Delhi-Mumbai Expressway in three years by 2022.
The minister was so cheesed off that he advised that the photographs of officials responsible for the delay should be prominently displayed to inform the public about their (officials) great ability to build a small office project in nine years.
Gadkari also suggested that the construction procedures of the building deserved a research paper to figure out the ways in which NHAI can be destroyed from within.
His vitriolic sarcasm was not lost on the audience, many of whom took to Twitter to congratulate the Minister for his frank and honest barbs at GMs, CGMs, and other senior officials including previous chairmen.