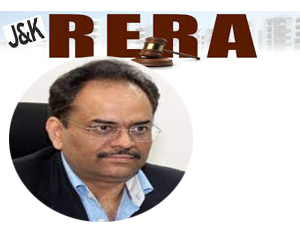 New Delhi (05.08.2022): The Jammu & Kashmir Government has appointed former Chief Secretary of Goa, Parimal Rai (Retd IAS:1985:UT) as the first head of Union Territory's Real Estates Regulatory Authority (RERA). He retired as Goa CS in January this year and prior to this he also served as an adviser to the administrator of Chandigarh Union Territory.

The Housing & Urban Development Department has issued a notification appointing Parimal Rai to the coveted post of Chairman, RERA (J&K).
Read More About RERA:
The chairperson of the Authority (RERA) is appointed by the Government on the recommendations of a selection committee consisting of the Chief Justice of the High Court or his nominee, the Secretary of the Department dealing with Housing, and the Law Secretary.
The authority (RERA) is aimed at regulating, monitoring, and promoting the real estate sector and ensuring transparency in the sale of real estate projects while protecting the interests of the consumers.