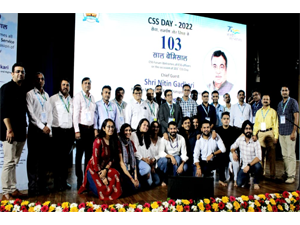 New Delhi (02.10.2022): The Central Secretariat Service (CSS), which is known as the backbone and repository of the institutional memory of the Government of India, completed 103 years of its establishment on October 1.
CSS officers organized the 103rd CSS Day Celebrations at Dr. Ambedkar International Centre, Delhi. Prime Minister Narendra Modi, in his message/greetings, shared his aspirations for the CSS officers on the occasion of CSS Day. Congratulating the CSS officers on the occasion the Prime Minister praised the officers for their remarkable contribution in making governance more effective. The Prime Minister said that CSS officers have a very important role in the formulation and implementation of policies in the Government of India. The Prime Minister emphasized that CSS's long experience, transparency and futuristic vision will help fulfill the country's hopes and aspirations in the near future.
On the occasion of CSS Day, the Chief Guest, Road Transport and Highways Minister Nitin Gadkari told the importance of CSS officers. He also spoke about PV Gopalan, the grandfather of US Vice President Kamala Harris, who was a CSS officer and served as Under Secretary in the Ministry of Road Transport and Highways. Gadkari said that he is confident that the role of CSS officers in the Central Government is going to become even more important after the completion of the Central Vista project as it will help in better coordination between various departments of the Government of India.
Also present on the occasion were Pratap Chandra Sarangi, former Minister of State (MSME), Ramesh Bidhuri, Member of Parliament, who also emphasized the important role and importance of CSS officers in administration. Cultural programs by CSS officials and a panel discussion on 'Emerging Role of CSS towards building a New India in the elixir of time' were also organized at the event.
The Central Secretariat officers held detailed discussions for policy formulation and implementation to take the country to new heights in the next 25 years and inspired all the officers to work vigorously on making the dream of Hon'ble Prime Minister as Muhurta. From the ramparts of the Red Fort, the five pledges made by the Hon'ble Prime Minister for 2047, which are to make a developed India, remove any traces of slavery, take pride in the heritage, unity and fulfill their duties, were realized by the Forum Secretary General Manmohan Verma. He urged all the officers to work on these pledges in their respective ministries with great detail and also urged them to implement it.
Even before independence, in 1919, the Imperial Secretariat Service came into existence as one of the branches of the Levlin-Smith Committee, which was established on the eve of the introduction of the Montagu-Chelmsford Reforms. This is the same Royal Secretariat Service, which was renamed as Central Secretariat Service after independence.