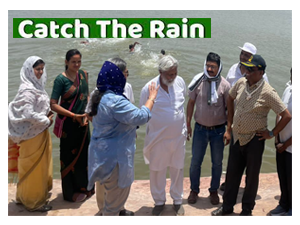 New Delhi (29.05.2023): Water is the elixir of life but when Prime Minister Narendra Modi gives a call for 'Catch the Rain', it has multiple purposes behind it. Not only saving the water is the only intention but protecting the environment, raising the depleting ground water level, thereby reducing the energy used for pumping ground water for irrigation, making available sustainable source for drinking water brought home by pipeline, helping to mitigate urban floods, and more importantly helping farmers to augment their income by reducing their irrigation expenditure.
So on the lines of Central Prabhari Officer (CPO) for Aspirational districts, the government has made provisions of the Central Nodal Officers (CNOs) for its 'Jal Shakti Abhiyan: Catch the Rain – 2023'. This is a kind of flagship scheme of the government and an attempt to empower the last man in the queue to get benefitted by the new governance model.
Praising the programme Prime Minister Narendra Modi said, "Catch the rain is a phenomenal campaign and visionary concept which will strengthen the rainwater conservation for the generations to come." There are many others also who praise this initiative. The slogan was coined by G Asok Kumar (IAS:1991:TG), DG, Namami Gange. He started this campaign when he was serving as MD, National Water Mission. For his efforts to make Rainwater harvesting a people's movement, India's first woman IPS officer and former Puduchherry LG Kiran Bedi called him as 'the Rain Man'. From people like Rajendra Singh, better known as the Water Man to once a dreaded dacoit Bachu Singh from the Chambal area - all have been working for the same cause.
Bachu Singh is now a water warrior, looking after his agricultural field, with waters from the revived Sherni river, which feeds into and has revived Parvati river, which meets river Gambhir that later joins Chambal river before it merges with Yamuna river in Etawah to make a confluence with Ganga River at Prayagraj. The initiative is an example of Rainwater harvesting structures helping in reviving and rejuvenating small rivulets which in turn has helped increase flow of water in the rivers they join.
(By Vinod Kumar Shukla)