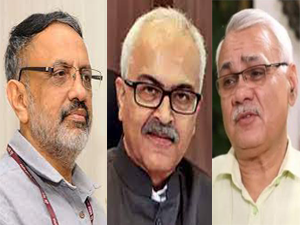 New Delhi (14.08.2021): The NDA administration's love or penchant for 'continuity in the higher echelons of bureaucracy might have come to follow the law of unintended or intended consequences. Well, the beauty is no one is sure; everyone is guessing as much as one does.

While the extension given to Union Cabinet Secretary Rajiv Gauba (IAS:1982:JH) and Union Home Secretary Ajay Kumar Bhalla (IAS:1984:AM) might have been necessitated by what the government perceived as 'exigency', the decision is said to have undermined the career prospects of several officers down the line.
Gauba's and Bhalla's tenure was scheduled to come to an end on 30 August and 22 August respectively. Now both of them would continue to occupy the highest offices till August 2022.
The above decisions taken in quick succession are said to have disappointed a couple of high-profile officers who have been aspiring to move up in their careers..
It may be underlined that Gauba was earlier Home Secretary before he was elevated to the top post of Cabinet Secretary. Before moving to the Ministry of Home Affairs (MHA) as Secretary, he served as the Secretary, Ministry of Housing & Urban Affairs (MoHUA) in the centre.
It is believed that Gauba's seamless career progression at Centre as Secretary in the MoHUA, MHA and then as Union Cabinet Secretary might have triggered the aspiration in the incumbent MoHUA Secretary Durga Shankar Mishra (IAS:1984:UP) that he too might get the opportunity to run the MHA once Bhalla retires.
In view of the high-profile Central Vista Project (PM Narendra Modi's dream project), he was already billed as either the next Cabinet Secretary or the next Home Secretary at least. Further, his peers also believed that politics of the day could also favour him as UP, to which he belongs, will face assembly elections next year. Being a Brahmin, he was considered by some as a good get to lure disenchanted Brahmin voters of the state.
However, at the fag end of his career, Mishra is seen to have found that neither his high-profile Vista Project nor his social or political capital has been of much use. Even if he gets an extension as MoHUA Secretary, from his perspective, it may not amount to much because he has already invested seven years in the same ministry starting as Joint Secretary and reaching the top post of Secretary.
So, will he be rewarded in some other way? Officials believe that the best reward for Mishra, given the situation, could be a constitutional post like that of a Lt. Governor or Governor or an equivalent post. But none could be predicted in the unpredictable NaMo era.
(By Rakesh Ranjan)