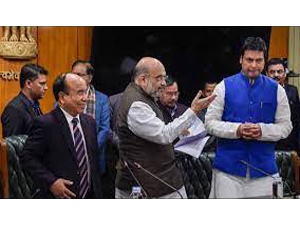 New Delhi (16.05.2022): The BJP ousted Manik Sarkar's government in Tripura in 2018 and a young chief minister Biplab Kumar Deb of the party replaced him but in the four years' time, he too faded away giving way to another chief minister Manik Saha just nine months before the Assembly elections in the state. Deb is the fourth chief minister of the BJP who is replaced in recent times.

Motormouth Deb has not only been given a dressing down by Home Minister Amit Shah in the past but Prime Minister Narendra Modi too when he asked him to focus on work. Contrary to the reports that he was unpopular and there was organizational infighting, he had recently won municipal elections for the party and results were unprecedented.
So what caused his ouster? Corruption by his close associates is a big allegation that is being said to be the reason for his removal. The second big reason is that his wife Niti Deb has also started nurturing political ambition and is fully active in Agartala. She wanted to contest the Mayoral election. Another thing that went against him was the weakening of RSS joint General Secretary Krishna Gopal. Deb is considered to be his man. Some of the BJP and RSS people in Delhi also lobbied against Deb and his team.
His team was accused of not listening to people of importance that was talk of the town in Delhi. But all these are speculations, real reasons may be unimaginable. Apparently, Sunil Deodhar, the architect of the victory of Tripura, was also ignored and was driven out of the state. His efforts were also not acknowledged, which has not gone down well with many.