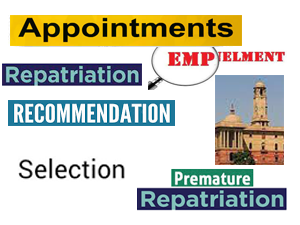 New Delhi (19.05.2023): Notifications of appointments and recommendations issued on Friday are as follows:
Mridul Kumar (IFS: 1992) was appointed as the next Ambassador of India to Switzerland.
Ankur Yadav (IRAS: 2013) was appointed as Deputy Secretary in the Ministry of Minority Affairs for a period of four years.
Prabhakar Kumar (IRSC&IT: 2008) was appointed as Director in the Department of Food & Public Distribution, Delhi for a period of five years.
ACC approved empanelment of officers for promotion to the grade of Additional Director General (Civil) in the Central Public Works Department (CPWD) for the panel year 2023.