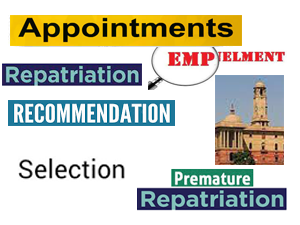 New Delhi (20.03.2023): Notifications of appointments and recommendations issued on Monday are as follows:

Dr Ranjan Sen, Scientist-VII, Centre for DNA Fingerprinting and Diagnostics (CDFD), Hyderabad, was appointed to the post of Director, Indian Association for Cultivation of Science (IACS), Kolkata.
Late Shri Kamal Chowdhery (IDAS) was empanelled for promotion to the grade of Principal Controller of Defence Accounts (PCDA) of the Indian Defence Accounts Service (IDAS) for the panel year 2020.

Pradip Kumar Banik, Deputy General Manager (DGM), Brahmaputra Valley Fertilizer Corporation Limited (BVFCL) was appointed as Director (Production) till the date of his superannuation i.e. 30.09.2025.
The extension of Gurjeet Singh Dhillon (IOFS: 2002), Director in the Ministry of Housing and Urban Affairs, was approved for a period of two years i.e. up to 25.03.2025. He counts his central deputation tenure w.e.f. 26.03.2018.
Manoj Tandon was appointed as Director (Projects Operation & Maintenance), RailTel Corporation of India Limited (RCIL) till the date of his superannuation i.e. 30.11.2027.

The Central Deputation tenure of Rajiv Ranjan Bhagat (IPS:1998:GJ), currently working as IG in the Special Protection Group (SPG), was extended for a further period of one year beyond 20.05.2023, i.e. upto 20.05.2024, in relaxation of lPS Tenure Policy.