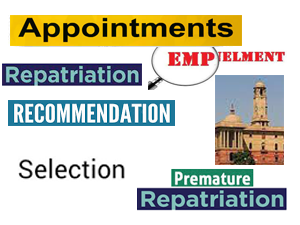 New Delhi (01.05.2022): Notifications of appointments and recommendations issued on Sunday are as follows:-

The tenure of Vinod Kumar Tiwari (IFS:1986:HP), Additional Secretary, Ministry of Coal, was on Sunday extended for a period ending 28.02.2023 w.e.f. 21.04.2022 i.e. till his superannuation.
CBDT Member Mrs Sangeeta Singh (IRS IT:1986) was on Sunday assigned with the additional charge of Chairman of the Central Board of Direct Taxes (CBDT) for a period of three months or till the appointment of a regular Chairman. Jagannath Bidyadhar Mohapatra (IRS IT:1985) superannuated on 30.04.2022.