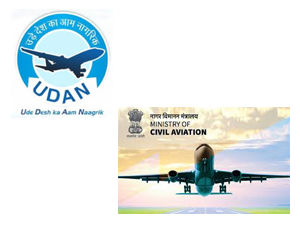 New Delhi (05.08.2021): Taking off from the UDAN-RCS (Ude Desh ka Aam Naagrik- Regional Connectivity Scheme) introduced in June 2016, the NDA government, according to Union Civil Aviation Minister Jyotiraditya Scindia, has moved in the direction of democratizing air travel through the Airports Economic Regulatory Authority of India (Amendment) Bill which was passed in 15 minutes in the Rajya Sabha on Wednesday even as the Opposition locked itself down in demanding a discussion on the Pegasus issue.

The Lok Sabha had passed the Bill earlier during the first week of the monsoon session.
Tabling the bill, Scindia said the Opposition had constructed only 75 airports in the last 70 years, whereas the NaMo administration has constructed 51 new airports in the last six years and increased the tally to 126. "With this bill, we would democratize the air travel, we would take the airport to cities, where the rail connectivity has reached," he said.
"Now small places such as Darbhanga (Bihar), Belgaum (Karnataka), Jharsuguda (Orissa), Rupsi (Assam), will have around 150 to 170 flights per week. This is an ambitious bill, based on which a new foundation for development would be laid," the Minister added.