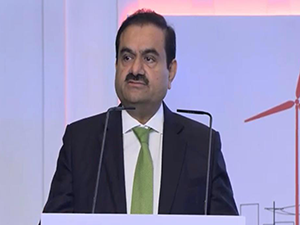 Mumbai (21.09.2022): Gautam Adani became the richest man of India and Asia on Monday with a net worth of $88. 5 billion. Adani went past Mukesh Ambani, promoter of Reliance Industries Group, who has a net worth of $87. 9 billion.

The rise of Adani's net worth was boosted by an over fivefold jump in the market capitalization of his group companies in the last two years. In the global ranking of billionaires, Adani is ranked 10, and Ambani 11. This puts both Indians ahead of names like Facebook co-founder Mark Zuckerberg, members of the Walton family that owns Walmart, and Michael Dell, founder of the US-based computer company Dell. Tesla founder Elon Musk, with a net worth of $235 billion, is at the top.

Interestingly, according to the Forbes billionaire index, Ambani, with a net worth of $90. 3 billion, is still the richest Asian while Adani, with a net worth of $89. 3 billion, is the second-richest in the continent. In the last few months, the two Indians have been swapping positions on the billionaire rankings by Bloomberg and Forbes. Data from the NSE showed that in the last two years, the total market cap of all Adani Group companies jumped from about Rs 2 lakh crore to its current value of Rs 11. 3 lakh crore.