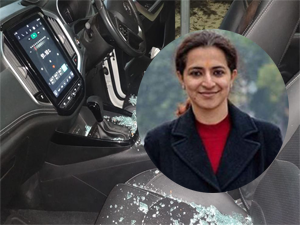 New Delhi (06.10.2021): India's stalking laws are so cumbersome that it's almost next to impossible for a woman to prove in a court of law if she is stalked physically. Unless she is harmed physically, emotionally, and electronically, she has fewer options even if she belongs to the upper crust of society.
This came to light when Aakriti Khatri, who runs the well-known Venus Detective Agency that has branches in most of the metropolitan hubs like Bangalore, Mumbai, Pune, Hyderabad, Jaipur, Delhi, Chandigarh, etc, was attacked last Friday night.
According to her, on Friday night, while driving back home from work, she was stalked by two men who shadowed her car, abused her, and demanded that she stop the car. However, this ended when a passerby intervened. As the intervener left, the two men again shadowed her car.
Then she thought of calling 100 but could not follow the computerized call as she was already driving in fear. At Kaushambi, since the Ghaziabad police station was on the way to her house, she approached 3 cops who were standing outside and narrated her harrowing experience. When she pointed to the car chasers, the reply she got from them was 'Look they are taking a U-turn and going away.'
But the chasers also knew her home address. When she reached the house and bolted herself in, they arrived and started banging her doors and windows. When she didn't open and kept herself locked in, they threw bricks at her glass windows. Apart from the injuries she sustained, the windshield and windows of her car were also badly damaged.
Given what happened, Aakriti would be hard placed to pursue a legal stalking case. At best, possibly the case would be confined to burglary, damage to property, and personal injuries.
If this is the plight of Aakriti, think of the suffering we have brought upon our daughters, sisters, and mothers by not compelling successive regimes of different political parties to do their job and legislate laws that protect women and deter criminals. Reportedly, she filed the FIR but the police registered it under Roznamcha.