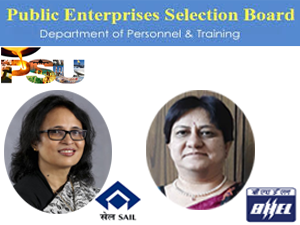 This is being underlined as something rare in the recent past of the Central Public-sector Enterprises (CPSEs) that two women got selected for the top job in CPSEs in quick succession. Ahead of Independence Day celebration on 15 August the senior-level executives in several CPSEs underline the developments that Central PSUs witnessed recently.
There appear mixed views and reactions but broadly they appear enthused with the selection of two women executives for board level positions in quick succession.
The public-sector-headhunter on Monday this week selected Mrs. Soma Mondal (Director, SAIL) for Chairperson post in SAIL. She would succeed S K Chaudhary on 01.01.2021. Further, PESB on 16 July 2020 selected Mrs. Renuka Gera (ED, BHEL) for the post of Director (Industrial Systems & Products), Bharat Heavy Electricals Limited (BHEL). She would replace S Balakrishnan; the outgoing Director (IS&P) retiring November this year. Be it coincidence or a considered move keeping in view their competence but it's rare that provides CPSEs reason for contentment and rejoice.