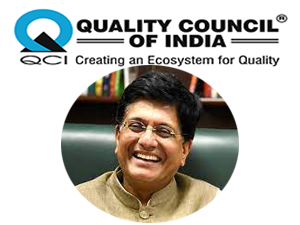 New Delhi (06.10.2022): A special event will be held to commemorate the completion of 25 years of the Quality Council of India (QCI) on Thursday.
Union Minister of Commerce & Industry, Consumer Affairs, Food & Public Distribution, and Textiles Piyush Goyal, will be the Chief Guest at the event that will
be held at the Ambedkar International Centre in New Delhi to celebrate QCI's silver jubilee.
The special event intends to share India's journey of growth, accelerated by the enhancement of quality. Stalwarts in policymaking, governance, and quality will come together on one platform to applaud and celebrate India's tryst with excellence, rooted in quality and consistency.
To celebrate the journey of quality and excellence that India stands for, QCI has launched a marquee campaign–Gunvatta Se Atmanirbharta: India's quality movement to mark its silver jubilee celebrations. The campaign aims to celebrate India's quality hubs, create awareness about India's landmark achievements and inform people about the many initiatives that India is embracing to enhance the quality of life of all its citizens.
Suresh Prabhu, former Union Commerce & Industry Minister, Amitabh Kant, India's Sherpa to G20, Anurag Jain, Secretary, Department for Promotion of Industry and Internal Trade and BVR Subrahmanyam, CMD, India Trade Promotion Organization and Former Commerce Secretary and other dignitaries will take part in the celebration.
Panel discussions on the quality ecosystem being an enabler for 'Make in India', achieving India's growth vision for 2047 through speed, scale, digitalisation and quality, and discussion on the 'Heal in India-Heal by India' initiative will be held to mark the occasion.
Excellent contributors to India's quality ecosystem will also be recognized through several awards instituted by QCI with its partners.
Quality Council of India was set up in 1997, jointly by the Government of India and the Indian Industry represented by the three premier industry associations i.e. Associated Chambers of Commerce and Industry of India (ASSOCHAM), Confederation of Indian Industry (CII) and Federation of Indian Chambers of Commerce and Industry (FICCI), with Mr Ratan Tata as its first Chairman.
Over the past 25 years, QCI has created various boards viz- NABL, NABH, NABCB, NABET and NBQP to take over the functions of accreditation and quality promotion.
Since its establishment, QCI has played a pivotal role in India's economic growth. Speaking fondly about the journey of QCI in the last 25 years, Adil Zainulbhai, Chairperson, QCI says, "QCI is proud to have played a part in making this happen through its various accreditation boards and through its assessment and measurement of services delivered to the citizens of India, enabling them to lead quality lives."
QCI hopes to play an even bigger role in the growth of India by leading it to become a developed economy by 2047.
Dr RP Singh, Secretary General, QCI says, "We take pride in the character that we have fostered here at QCI - of fearlessness, of vision, of leadership and of making a difference for a better tomorrow. We have inculcated technology in our work for faster, higher and better credibility. We want to remove the distinction between national and international quality, and make India a forerunner in quality."