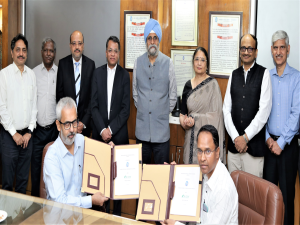 New Delhi (29.05.2023): Power Finance Corporation (PFC) has entered into a Memorandum of Understanding (MoU) with RITES Limited to establish a strategic partnership for financing infrastructure and logistics sector projects in India and abroad.

PFC and RITES will explore avenues of mutual collaboration for undertaking Traffic Studies, Project Management Services, Audits & Inspections, DPR Review and other relevant services for carrying out the projects of mutual interest. The MoU will also enable both the companies to explore consultancy opportunities for various Government Bodies, Private Entities and Multilateral Funding Agencies. The collaboration will focus on identifying, evaluating, and funding projects in transportation, logistics, energy and allied infrastructure.
PFC's financial expertise with RITES engineering consultancy prowess together will accelerate the development of critical projects and drive sustainable growth in the infrastructure and logistics sectors. The partnership will also facilitate knowledge sharing in developing infrastructure projects. The MoU was signed in the presence of Ravinder Singh Dhillon, CMD, PFC, Rahul Mithal, CMD, RITES, Directors of PFC & other senior Officials of both Companies.