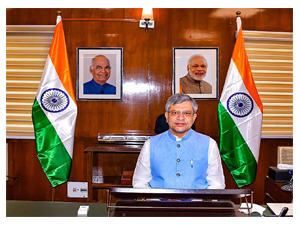 New Delhi (11.05.2022): Taking a step forward to execute the Union Cabinet's decision on carving out an integrated Indian Railway Management Service (IRMS) for Indian Railways the Railway Board has constituted a committee to design a comprehensive curriculum for two-year probationary period of IRMS probationers. This is to provide a holistic knowledge of Railways' technical and management functions as well as imbibing managerial and leadership skills besides developing behavioral, domain and functional competencies to nurture them as future leaders of Indian Railways.

The nine-member committee under the chairmanship of DG, NAIR (Vadodara) includes; DG, IRICEN (Pune), DG, IRIEEN (Nasik); DG, IRIFM (Secunderabad); DG, IRIMEE (Jamalpur); DG, IRISET (Secunderabad); DG, IRITM (Lucknow); Principal ED (HR), Railway Board. In addition, DDG, NAIR (Vadodara) has been made Convener of the committee.
Reportedly, the Committee, with its headquarter at Vadodara, will submit its report during its term of 30 days from the date of its constitution.
These committee will take a call on Terms of Reference as below;
Reviewing various components of the existing probationary period of Group 'A railway probationers including Foundation Induction at CTIs as well as external Institutes, field training at Railways/PUs, Study tour abroad, Field attachments, Zonal Posting, Posting Exam etc.
Designing and development of two-year probationary period of Group 'A' IRMS probationers to be inducted through Civil Services Examination (CSE).
Designing a fresh training modules for Group 'A' IRMS probationers under the aegis of NAIR.
Identifying role of the NRTI and other external institutions e.g. conducting of specific training components, feasibility of conducting exam at the end of Probationary training for awarding of suitable Degree or Diploma.
Exploring involvement of external institutions like IITs, IIMs etc. for conducting specific modules and credits for the same.
Determining the methodology for ranking and placement of the probationers.
Evolving a pre-training and post training evaluation in the multiple components namely technical, managerial, behavioral and business development aptitude and ability.
Any other issues related to Probationary period/training.