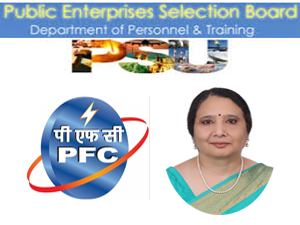 New Delhi (08.05.2023): The Public Enterprise Selection Board (PESB) on Monday selected Ms Parminder Chopra, the incumbent Director (Finance), Power Finance Corporation (PFC) for the post of Chairman & Managing Director, PFC. Altogether, nine candidates appeared before for selection interview.

Weeks back the scheduled selection meeting was deferred after a 1990 batch IRTS officer came up with representation against his non-shortlisting. Later the selection meeting held on Monday picked Ms Chopra for the coveted post.
Subject to requisite clearances and ACC approval Ms Parminder Chopra will replace Ravinder Singh Dhillon, the incumbent CMD is set to superannuate office on May 31. 2023.
It may be seen whether the ACC would be able to endorse her recommendation by the month end, as its takes at least six weeks' time, or there will be an ad hoc arrangement till ACC appoints Ms Chopra who may have a fairly long tenure as PFC CMD i.e. 30.04.2027.
ALSO READ: