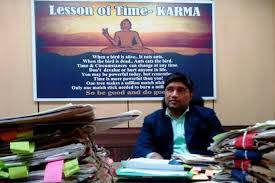 New Delhi (01.10.2023): On an application seeking early contempt hearing by Sanjeev Chaturvedi (IFS: 2002: UK), Delhi High Court has issued notices to two senior CBI officers. The Magsaysay awardee officer was chief vigilance officer of All India Institute of Medical Sciences, Delhi from 2012-14. Original contempt petition filed in 2018 stated that the officer had filed an RTI application before Central Public Information Officer, CBI in September 2017 about corruption cases in AIIMS, Delhi.

The single judge bench was hearing Chaturvedi's application requesting an early hearing of a contempt petition filed by him in 2018, stating that the CBI officials – Vineet Vinayak, joint director and Gagandeep Gambhir, DIG – failed to comply with an HC order dated September 7, 2017.
Chaturvedi informed the court that the case has been listed on 11 occasions but "no effective hearing" has taken place. The application, stating that the petition is "very vital for Chaturvedi as it was related to "Zero grading in his Annual Performance Appraisal Report (APAR) of Financial Year 2015-16", said that zero grading may prove fatal for his career and livelihood.
The court said, "This is an application seeking early hearing of the matter on the ground that if the matter is not heard at an earlier date, the petitioner will suffer in his career. For the said reason, issue notice to the respondent on the petitioner taking steps within 1 week from today."