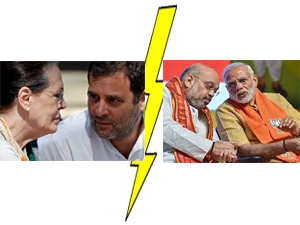 New Delhi (02.03.2023): The BJP and its allies put up an impressive performance in the three North-East states. The BJP is set to form the government with its allies in all the three states -- Nagaland, Meghalaya and Tripura.
The push for this region in the country can be seen from the fact that in May 2016, the North-East Democratic Alliance (NEDA) was formed by the BJP. Assam Chief Minister, Himanta Biswa Sarma was appointed as the convener of NEDA. The BJP has won 33 seats in Tripura down 11 while the BJP alliance in Nagaland has won 38 seats. The NPP leads the tally in Meghalaya with 27 seats. The Congress which was expecting a better performance managed to win just five seats.
The victory in North East for BJP and its allies is likely to have an impact on the 2024 Lok Sabha elections. Currently the NEDA has 19 of the 25 MPs from this region. In the Rajya Sabha there are 10 MPs. The Union Government has also spent crores of Rupees in creating infrastructure in the region, especially connectivity. The BJP has also addressed issues such as illegal immigration, which have been major in these regions.
Getting Himanta Biswa Sarma on the BJP's side was also a major plus. Since getting Sarma in 2015, the BJP has allied with many regional parties and also several young leaders and old-timers of the Congress have joined the saffron party. This win in northeast will give a further boost to the BJP and its allies in the North East. The BJP and its allies in North East are very much in the saddle which will try to maximize its seats in the region out of 25 Lok Sabha seats in 2024 elections.
In the months to come the BJP would continue to make a big push in North East while focusing on the five other states which will go to polls this year. It was being said prior to the elections in the three North Eastern states that the stakes will be high for the BJP in the run up to the other state elections and the big one in 2024.
(Vinod Kumar Shukla)