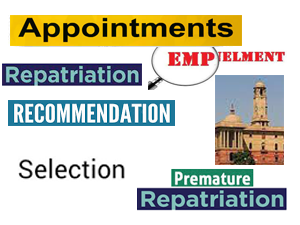 New Delhi (29.05.2023): Notifications of appointments and recommendations issued on Monday are as follows:

Amit Garg (IPS: 1993: AP), Addl. Director, SVP NPA shall continue to hold additional Charge of the post of Director, SVP NPA for a further period of three months beyond 31.05.2023.
Sonakshi Singh (IPS: 2021: BH) was shifted to Haryana cadre from Bihar cadre on the grounds of her marriage with Narendra Kumar (IAS: 2021: HY).
Dipak Kumar Das (IES: 2013) was appointed as Private Secretary to the Minister for Skill Development and Entrepreneurship and Education Dharmendra Pradhan at the level of Deputy Secretary.


Srinivas Malladi (IRSE Civil): 2006), Director, Ministry of Defence, was prematurely repatriated to his parent cadre.