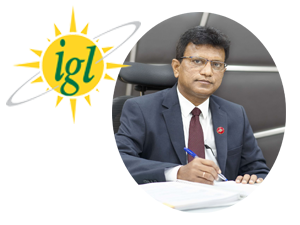 New Delhi (20.05.2022): Amid rising prices of CNG, Indraprastha Gas Ltd announced its Audited Financial Results for the Quarter and Year ended on March 31, 2022, in its Board Meeting. The company registered increase in net profit by 9 per cent of Rs 363.08 crore in FY'22 as comparing to the last year Rs 332.08 crore. IGL registered a turnover of Rs 2,638.20 crore as compared to Rs 1,700.52 crore in the corresponding period last year registering a growth of 55 per cent.

Moreover, the CNG registered sales volume growth of 16 per cent, PNG showed overall sales volume growth of 7% during the quarter. The Board also recommended the payment of dividend at 275 % i.e. Rs 5.50 per share (face value of Rs. 2/- each) for the financial year 2021-22, subject to the approval of shareholders in the ensuing Annual General Meeting.
The standalone financial results of IGL for the year ended March 31, 2022 have been reviewed by the Audit Committee and approved by the Board of Directors at their respective meetings held on May 18, 2022. The company's gross turnover recorded Rs 8,443 crore in FY'22.