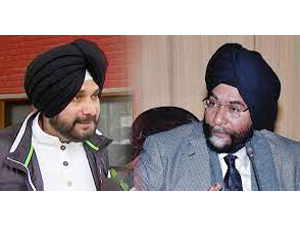 New Delhi (28.01.2022): A battle royal awaits in Punjab with the BJP fielding retired IAS officer Jagmohan Singh Raju against Congress state chief Navjot Singh Sidhu from Amritsar East. Raju, who was posted as Chief Resident Commissioner to Tamil Nadu Government, sought voluntary retirement from the IAS on January 25, 2022.
The BJP is working on man-to-man marking as part of its election strategy in all the five states for all important leaders including alliance partners of the opposition leader. So, the party is fielding such candidates to restrict their movement on other seats.
Raju's wrote an emotional letter for his voluntary retirement which reads, "Of late, the painful conditions in my home state, Punjab, have been weighing heavy on my conscience. As a son of the soil, I am agonised at the lingering socio-economic stress and the sufferings of the unheard, youth, and the underprivileged. At the same time, restraints of my service rules confine me from acting in solidarity with the causes espoused by my inner voice. My conscience and deep-rooted love for my home state has therefore been cajoling and nudging me to quit my service, return to Punjab and dedicate myself full-time in its service for the rest of my life."