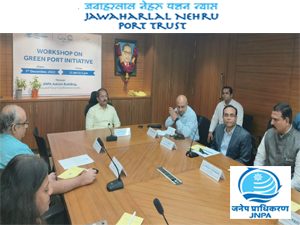 Mumbai (09.12.2022): Jawaharlal Nehru Port Authority (JNPA) organized a workshop on 'Green Port Initiative.' The workshop was inaugurated by Unmesh Sharad Wagh (IRS) Dy. Chairman, JNPA in the presence of all the HODs and JNPA officials. The objective of the workshop was to create awareness about green shipping, the use of alternative fuels, and sustainable development.

In the workshop, experts from the industry participated in seminars on green shipping, the oil spill response system at JNPA, the Environmental Monitoring Plan of Jawaharlal Nehru Port, and Green Port initiatives at JNPA. During the workshop, it was highlighted that there is a need to use alternative fuels like LNG, Hydrogen, methanol, etc. for green shipping.
Speaking at the occasion, Unmesh Sharad Wagh said, "JNPA has taken several green initiatives with a view to reducing carbon footprints which includes the use of solar power supply, e vehicles, Shore Power Supply, etc. It is essential that investments are made in green infrastructure, including zero-carbon energy zones linked to the port and shipping sector. JNPA is committed to sustainable development. We also have a tree plantation drive on a large scale for carbon sink."
Under the Maritime India Vision 2030, JNPA intends to use 60% of renewable energy. JNPA provides shore power supply to tugs and port crafts, and many such initiatives. JNPA has installed solar panels at JNPA inducted electric vehicles. JN Port has prepared an action plan covering all activities of the Port including cargo handling, storing, evacuation, and many other activities related to environmental protection.