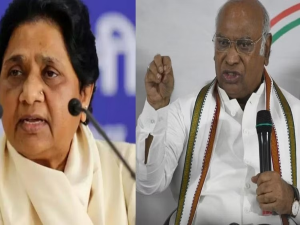 New Delhi (13.09.2023): The Congress is continuously devising new strategies to regain its strength and hold in Uttar Pradesh. It has appointed Ajay Rai as state president of UP Congress a few days ago to woo Brahmin and Bhumihar voters.

The Congress knows it well that without winning UP, it is difficult to win the national elections. In such a situation, it is paying special attention to UP. So, to woo the Dalit voters of Uttar Pradesh in the Lok Sabha elections, the Congress can field its national president and Dalit face Mallikarjun Kharge from UP. The Congress think tank is working on a plan to field some party stalwarts from the state in the 2024 Lok Sabha elections.
To regain its hold on Dalit votes, the Congress party can make Kharge contest from any reserved seat in the state. There is a growing perception that BSP chief Mayawati's charisma and hold over Dalits are waning. The Congress could be a natural choice to fill this void. This is why it is planning to field Kharge. Kharge can contest from both Karnataka and UP. Mayawati has announced that she will not join I.N.D.I.A which means division of votes. Moreover, pitting any individual like Khadge against PM Modi will give advantage to the BJP for the image of the PM.
The Congress may field Kharge from Etawah, it will help Samajwadi Party candidates in nearby constituencies. This is because both the SP and Congress are part of the I.N.D.I.A alliance. In that case, Kharge will contest from his traditional seat in Karnataka and one seat in Uttar Pradesh. Former Congress chief and Wayanad MP Rahul Gandhi will contest from Amethi seat while his sister and party general secretary Gandhi can be fielded from Prayagraj.
I.N.D.I.A alliance is trying to give a tough fight to the BJP in Uttar Pradesh because if it is able to make any dent in Uttar Pradesh in the BJP vote bank, the alliance will have chances elsewhere too. With Mayawati not joining any of the alliance, the SC voters will be crucial for all the three. It will benefit the BJP in case of split in votes. Mayawati is continuously on downslide and any number of vote share will be a gain for I.N.D.I.A.
(Vinod Kumar Shukla)