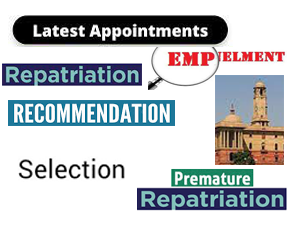 New Delhi (27.09.2022): Notifications of appointments and recommendations issued on Tuesday are as follows:

PESB selected Rajiv Kumar (GM, BSNL) for the post of Director(Finance), Bharat Sanchar Nigam Limited (BSNL).
Katuri Sudarshan Raju was selected for the post of Director (Projects), Engineering Projects (India) Ltd. Presently, he is Executive Director, EPIL.
The tenure of Hemant Kumar Sharma (IPS:2006:RJ) as Police Planning Officer (P-4 Level), Office of Rule of Law and Security Institutions, Department of Peace Operations, United Nations, New York was extended for a further period of one year beyond 28.11.2022. (I.e. upto 28.11.2023.
The central deputation tenure of Ms. Mudita Mishra (IOFS:2001), Additional Development Commissioner (Handicrafts), Ministry of Textiles, was extended for a period of one year beyond 16.09.2022 and upto 16.09.2023. She counts her central deputation tenure under the Central Staffing Scheme w.e.f 17.09.2015.
Jag Mohan (IPS:1995:BH) was appointed as Minister (Personnel & Community Affairs) (JS level) in the Embassy of India, Washington DC under the Ministry of External Affairs for a tenure of three years. He replaces Anurag Kumar (IPS:1994:AGMUT).
The Appointments Committee of the Cabinet (ACC) headed by Prime Minister cleared the approved the appointment of Dr D K Sunil (Chief Designer, Hindustan Aeronautics Limited (HAL), as Director (Engineering and R & D) in HAL for a period ending 30.04.2026 i.e. the date of his superannuation.