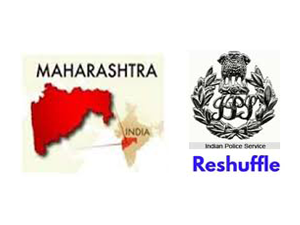 Mumbai (24.08.2021): The Maharashtra government has promoted and transferred around 40 IPS officers including CID chief and state prisons chief and officers to the ranks of additional director-general to deputy commissioner of police. They included:
Atulchandra Kulkarni (IPS: 1990: MH), Additional director general (ADG) will now be chief of the state prisons and correctional services.
Ritesh Kumar (IPS: 1992: MH) ADG will take over as the CID chief in the state.
Praveen Salunkhe (IPS: 1995: MH), Special inspector general (IG) of state CID has been promoted to ADG rank. He is now entrusted with the responsibilities of special operations.
Madhukar Pandey (IPS: 1996: MH) IG has also been promoted to ADG rank and will now head the state economic offences wing (EOW).
Rajvardhan Sinha (IPS: 1997: MH), who earlier headed Mumbai's EOW as joint commissioner, has been made Mumbai traffic police chief.
Yashashvi Yadav (IPS: 1997: MH), who was heading city traffic police, has now been sent back to his previous posting as special IG of state cyber police.
Niket Kaushik (IPS: 1995: MH), has been promoted to ADG rank, but he has been ordered to continue with the present post of joint commissioner of EOW, Mumbai.
Praveen Padwal (IPS: 2004: MH), additional commissioner in Mumbai Traffic Police has been moved to North region as additional commissioner.
Satya Narayan (IPS: 1998: MH), Additional commissioner of south Mumbai has replaced Padwal and additional commissioner of north Mumbai
Dilip Sawant (IPS: 2004: MH) has replaced Satya Narayan. Mumbai Police's intelligence wing head
Brijesh Singh (IPS: 1995: MH) has been promoted and transferred as ADG Home Guards.
Archana Tyagi (IPS: 1995: MH) has been transferred to Maharashtra State Police Housing and Welfare Corporation (MSPHC).
Datta Karale was appointed as the new Solapur Police Commissioner
Ashok Morale (IPS: 2005: MH) was transferred as Additional Commissioner of Police (crime) in Thane.
Aswati Dorje (IPS: 2000: MH), will take charge as Joint CP, Nagpur Police,
Satyanarayan Choudhary (IPS: 1990: MH), who was earlier Additional CP (south region), was transferred to traffic police in place of Padwal.
Abhishek Trimukhe (IPS: 2007: MH), has been promoted as DIG and transferred to SRPF.
Rajiv Jain, has been promoted and transferred as Additional CP (Special Branch) in Mumbai Police