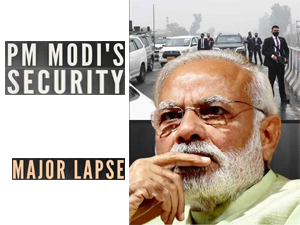 Chandigarh (06.01.2021): In an unprecedented development, Prime Minister Narendra Modi's convoy had been stranded on a flyover for 20 minutes just 20 kilometers away from the international border with Pakistan.
The endless saga of allegations and counter-allegations between Congress and the BJP has caused huge embarrassment yet as a matter of fact PM's security is paramount irrespective of the fact that which party is in power at the Centre or in the state. There are certain questions that need to be answered in the entire development.
Was it a failure of the SPG to properly communicate with the state police?

Was it a failure of the state police to provide proper security despite assurance after a change in the route was discussed?

The entire episode is being termed as a ploy of the PM to cover up embarrassment as Congress alleges there were just 700 people in the BJP rally to be addressed by the PM:

Why was Punjab CM C S Channi unavailable on the phone?
Who gave the information to the media PM saying to 'tell your CM thanks that I came back alive.
It was the last moment change that the PM would take the road route then who leaked the information about the PM's route to BJP supporters or protesters?
PM's route is cordoned off at least half an hour before his movement and it is the responsibility of the state police and if it was not done, why the SPG was not informed.
If SPG was informed, why is the Punjab DGP still silent about it?
If there was no lapse on part of the government, why was the SSP Firozpur Harman Hans suspended?
Isn't it also an intelligence failure that so many farmers gathered and they were clueless? Where were central intelligence agencies?
Why was protocol not followed when the PM is in the state to inaugurate projects for the people of the state?
It is conspicuous that Punjab CM, DGP, Chief Secretary and Home Secretary were missing from the scene.
Congress leaders asking the PM 'how is the josh' raises questions about the entire matter.
Hasn't Congress learned a lesson from the past that radical movements have cost two PMs belonging to the party only?
If this event was a planned conspiracy, the CM is a pigmy to take a call on it.
Finally, the silence of the Congress high command is mysterious which asks answers from the PM on every issue.