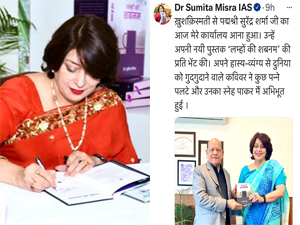 New Delhi (23.11.2022): When Dr Sumita Misra, a senior IAS officer of the Haryana cadre, tweets 'Kuch Riste Munafa Nahi Dete, Magar Jindagi Ko Ameer Bana Dete Hain' (Some relations don't fetch you a profit but make the life rich) is indeed a poetic expression. And this is what poetry is all about to say something in an abstract fashion. And poetic expressions of Dr Sumita Mishra have been flocking micro-blogging site – Twitter – with her concerns for society and women folks.

Due to professional compulsions, bureaucrats fail to speak their minds in many cases. But what a civil servant cannot speak otherwise can speak through his/her literary creations. Moreover, there are many bureaucrats with innate talent and they certainly deserve more credit for expressing themselves with the craft of poetry without letting their professional work suffer. Most importantly having equal command over English besides their mother tongue makes them special in some cases and Dr. Sumita Misra (IAS: 1990: HY) belongs to the same genre of IAS officers.
There are many titles to her credit but her recent work 'Lamho Ki Shabnam' could purportedly be termed as documentation of her personal experiences and sensibilities. She even acknowledged this in one of her Tweets. Her other creative accomplishments included 'Wakht Ke Ujale Mein', A Light of Light, Jara Si Dhoop and her English posy of poems 'Petrichor' are very much appreciated. She fearlessly expresses her view on social and women-related issues. At present, she is serving as an Additional Chief Secretary in the Haryana Government. A Ph.D. in Gender Economics from Kurukshetra University in 2015, Dr. Mishra was born and brought up in Lucknow, Uttar Pradesh. She was the Gold Medalist both in B.A. & M.A. in Economics from Lucknow University. Women's topper and 10th position holder in her batch of Indian Administrative Service examination in 1990.
Apart from academic excellence and work experience in a spectrum of sectors like any other civil servant, she has her own literary aspirations. Her first book of poetry in English titled 'A Life of Light' was published in 2011 with a foreword written by Khushwant Singh -- the famous journalist, author, and columnist. Her second book 'Zara Si Dhoop' was released in December 2013 and third one 'Waqt Ke Ujale Mein' was released in September 2016 with wide accolades. She was awarded by the Chandigarh Sahitya Akademi for 'Waqt Ke Ujale Mein' as the Best Book in Hindi poetry in 2016-17.
She is the founder and Chairperson of the Chandigarh Literary Society and the Festival Director for Literati - the Chandigarh Litfest organized for the first time in November 2013 at the iconic Lake Club, Chandigarh. It takes place every year thereafter. As an MD of Haryana Tourism, she successfully organized the 28th 29th and 30th editions of the Surajkund International Craft Mela in 2014, 2015 and 2016, respectively which turned out to be the world's largest crafts and heritage event.