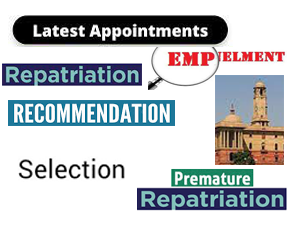 New Delhi (26.05.2022): Notifications of appointments and recommendations issued on Thursday are as follows:
The additional charge of the post of Secretary, Ministry of AYUSH was assigned to Rajesh Bhushan (lAS:1987:BH) Secretary, Department of Health & Family Welfare from 28.05.2022 to 06.06.2022 during the period of absence on leave of Vaidya Rajesh Kotecha.
Roshan Mammarappallil Thomas (IDAS:2011), who was appointed as Deputy Secretary in the Ministry of Tourism for a period of four years.
Deepak M. Damor (IPS:2001:TN) was appointed as Joint Director (IG level) in National Crime Records Bureau (NCRB) against existing vacancy on deputation basis for a period of 05 years.