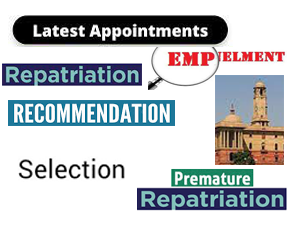 New Delhi (16.09.2022): Notifications of appointments and recommendations issued on Friday are as follows:

The additional charge of the post of Secretary, Inter-State Council Secretariat, was assigned to Ms Ansuli Arya (lAS:1989:BH), Secretary, Department of Official Language from 17.09.2022 to 25.09.2022 during the period of absence on leave of Ms Anuradha Prasad (IDAS:1986).
Ashok Kumar Thakur was appointed to the post of Executive Member, Narmada Control Authority (NCA). Presently, Thakur is working as Chief Engineer (PSETD Division) in the Central Electricity Authority (CEA).
The deputation tenure of S M Sahai (IPS:1987:JK), Additional Secretary, National Security Council Secretariat (NSCS) was extended for a period upto his superannuation i.e. 31 .03.2023.