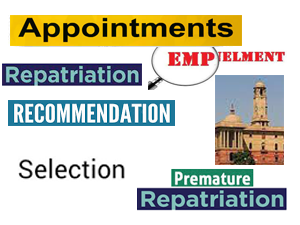 New Delhi (08.06.2022): Notifications of appointments and recommendations issued on Wednesday are as follows:

The deputation tenure of Pawan Kumar Shrivastava (IPS:1992:MP), IG, BPR&D, was extended for a period of two years beyond 26.04.2022 i.e. upto 26.04.2024 (total tenure 7 years), in relaxation of the IPS Tenure Policy.
SC Joshi, Additional Chief Labour Commissioner (Central), was empanelled for promotion to the grade of Chief Labour Commissioner (Central) in the Central Labour Service, for the panel year 2022.
The central deputation tenure of Kamlesh Chaturvedi (IFoS:1988:MP), Joint Secretary, Ministry of Road Transport & Highways, was extended for a period of two years beyond 21 .05.2022.
The tenure of deputation of Kamdi Hemant Bhaskar (IFoS:2009:NG), presently working as Assistant Inspector General of Forests, National Tiger Conservation Authority (NTCA), Regional Office, Nagpur, was extended for a further period of one year beyond 22.06.2022 and up to 22.06.2023 (i.e. 7 years outside the cadre at a stretch).
CI Acharya, Chief General Manager, Mangalore Refineries & Petrochemicals Limited (MRPL), was appointed to the post of Director (Finance), Shipping Corporation of India (SCl) till the date of his superannuation, i.e. 31.03.2026.