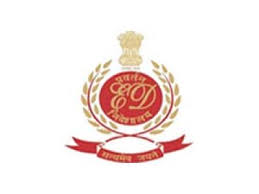 New Delhi (19.01.2021): Director of Jay Ambe Gowri Chem Limited Narendra Kumar Patel, who is accused of defrauding SBI and other banks of a total of about Rs 100 crores and has been absconding, has finally fallen into the trap of the Enforcement Directorate (ED), which has arrested him and produced in the special PMLA court and given 10 days custody.

The ED's hunt for Patel began on the basis of CBI FIR No. 03/2018 dated 12.02.2018 registered under section 120-B r/w 420, 467, 468 & 471 of IPC, 1860 and 13(2) r/w 13(1)(d) of PC Act, 1988, which disclosed that Patel had cheated the SBI of Rs. 65.39 crores through forged documents under a criminal conspiracy.
Investigations under PMLA have further revealed that State Bank of Bikaner & Jaipur had also declared Jay Ambe GowriChem Limited, Narender Kumar Patel, and other directors of the Company as wilful defaulters of Rs 36.14 Crore.
In an FIR No RC01/E/2016-CBI/EOB/Chennai dated 31.03.2016, registered by the Chennai branch of CBI's Economic Offences Wing, Exim Bank had complained on 30.03.2016 that neither the company nor its Directors repaid their loan, thereby causing it a loss of Rs 30.76 Crore.
It is further revealed that Jay Ambe Gowri Chem Limited also availed a loan of Rs 8 Crore from Development Credit Bank Limited which is also not yet paid.
Thus, the accused and its company were responsible for loan frauds of an amount in excess of Rs 100 Crore.
PMLA investigations have revealed that Patel had deliberately absconded and had fled to the USA along with his family.
A Fund trail analysis has revealed that Patel had authorized huge foreign outward remittances from the accounts of Jay Ambe Gowri Chem Limited in lieu of import advances and thereafter loans availed from SBI turned into NPA. It was suspected that "in the guise of non-existent imports, he had illegally shifted proceeds of crime abroad for his enjoyment".
In 2020, the ED issued Look Out Circular against Patel. This led to his interception and detention at Ahmedabad International Airport and subsequent arrest by the ED.
The custodial interrogation and further investigation are going on.